Commercial Property For Sale Minnesota
Applegate has been providing Commercial Real Estate Services since 1992.
Our professional team of commercial property experts take the guesswork out of locating your next corporate location. Enjoy the peace-of-mind that comes from knowing that you have the most experienced, full service real estate company working for you. Specializing in commercial sales, leasing and property management, we have knowledgeable agents available to work with you throughout the Twin Cities Metro and Western Wisconsin. Our extensive clientele includes long-term relationships with investors both local and nationwide. We do the hard work for you, ensuring you meet your goals and find the right building for your company.
Our clients enjoys working with commercial real estate professionals who are responsive and experienced.
You can relax knowing you are working with Applegate real estate professionals. Applegate, Inc. is a full service real estate company and has been in business since 1992. We specialize in commercial sales, commercial leasing and commercial property management. We are licensed in MN and WI and our service areas cover the Twin Cities Metro Area as well as Western Wisconsin. We have a substantial clientele base in the commercial real estate market and have relationships with many investors, both local and out of state.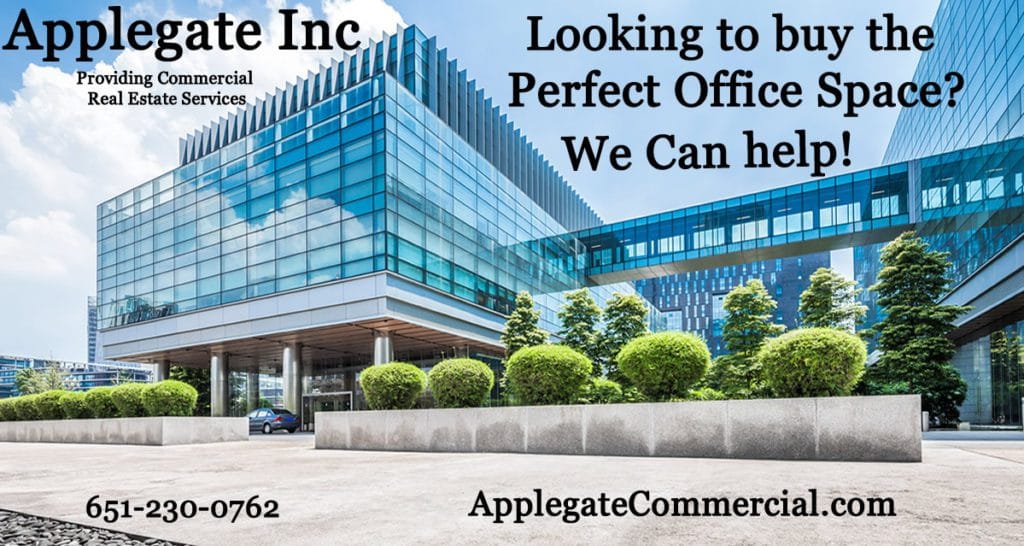 Featured Minnesota Commercial Property For Sale
Featured Commercial Land For Sale in Minnesota
Commercial Property For Sale Minnesota
Find the newest Minnesota commercial real estate for sale & retail property listings in Minnesota here! With Minnesota's steady population growth, strong workforce, & well performing economy, Minnesota is quite an attractive option for those wishing to start a business or continue running your business.
Are you looking for space to rent for your warehouse, retail store or industrial business?

Want to invest in an apartment building, duplexes, or other rental properties?
Selling your commercial real estate?
The Applegate Team is ready to help you with all your Minnesota commercial real estate needs with information on Minnesota commercial properties, retail space & industrial properties for sale. Contact Applegate, your Minnesota real estate experts today! Let us help find the perfect commercial real estate for you!
Minnesota Commercial Real Estate Agents
Wanting to buy or sell commercial real estate in Minnesota? Have one our real estate experts help guide you through the purchase of your next commercial property or expertly negotiate the sale of your current building. As local Minnesota real estate experts, we're experts on the dynamics unique to the Minnesota commercial real estate market. We'll get to work for you today!
Planning to sell your Minnesota commercial property? Contact the Applegate Team to learn more about our buyer or seller representation. 
Commercial Property For Sale & Leasing Minnesota
Minnesota Business owners and landlords looking to lease or buy commercial property will find the state's growth and economic success ideal for building their brand. Minnesota is one of the country's strongest employment rates and a diverse set of industries, all contributing to its population's increasing spending power. Commercial Real Estate listings can be found throughout Minnesota, allowing business owners and landlords several options to find the perfect location to buy.
Search Commercial Real Estate For Sale in Minnesota