Commercial Real Estate Anoka County MN
First of all Anoka County is a growing community with over 20 townships and cities. Therefore Anoka County is the perfect place to invest in commercial real estate. Above all, Anoka County provides its inhabitants with fun activities, a rich history, and a plethora of advantages that you won't find anywhere else. Hence, the commercial property for sale in Anoka County, MN, is second to none, with over 27,000 businesses who call Anoka County home.
Commercial Property for Sale in Anoka County, MN
As a result, purchasing commercial property in Anoka County, MN, is an excellent way to take advantage of money-making opportunities that naturally develop from the county's population growth. Whether you're interested in buying commercial real estate for your own business or want to rent property out to other business owners, the commercial real estate for sale in Anoka County MN will undoubtedly exceed your expectations. View our current Commercial Real Estate for Sale in Anoka County, MN.
Get in touch with our experienced real estate agents to see any property of your interest.
Commercial Property for Lease in Anoka County, MN
Also, we understand that not every business owner wants to purchase property. If you don't want to buy right away, click here and browse our commercial property for lease in Anoka County, MN or contact Applegate today.
Property Management & Commercial Real Estate Anoka County, MN
Furthermore Applegate offers services to help manage your property, with everything from maintenance to rent collection to landscaping. Our property management services allow you to focus on the more important revenue-generating areas of your business. At the same time, we deal with the day to day tasks that come with owning commercial real estate in Anoka County, MN.
Moving to Anoka County, MN
Anoka County MN History
Established in 1857, Anoka County's history is one of firsts and bustling industries. Before the era of exploration and colonization, the land was home to the indigenous Dakota, followed by the Ojibwa. In 1680 Father Lewis Hennepin traveled to the region, and in 1844, what is now the City of Anoka saw the first permanent settlers. From logging to potato production to a shoe factory, Anoka County's storied history provides an interesting stage for future commerce.
Schools in Anoka County MN
If you're planning to move to Anoka County with children you don't have to worry about their education. In contrast, Anoka County truly values higher education, and there are numerous reputable colleges and universities nearby, such as Anoka Technical College, University of Minnesota, and Augsburg University. As a result, Anoka County is excellent for raising your family, as well as purchasing commercial real estate to start operations or improve your business.
Activities in Anoka County MN
Above all visit the City of Anoka for scenic views and parks, as well as the downtown area where you can dine with friends and family, and shop at other local businesses.
Fun Facts of Anoka County, MN
The City of Anoka proudly calls themselves the "Halloween Capital of the World," for the reason that they celebrate the spooky holiday each year with an abundance of activities in October.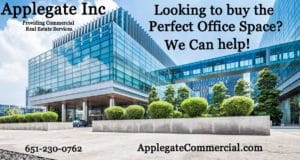 Servicing the following Counties:
Servicing the following cities and surrounding cities:
Find Commercial Property in Anoka County, MN
Most noteworthy, Applegate is dedicated to helping clients achieve their real estate goals by making informed, timely, and profitable commercial real estate buying, investment, and selling decisions. Contact us today to find commercial real estate in Anoka County, MN, for your business.