Looking for commercial real estate in Hudson, Wisconsin?  Hudson is located in St. Croix County, Wisconsin, on the banks of the beautiful St. Croix River, literally just over the border from the busy Twin Cities of Minnesota. It is part of the Minneapolis–St. Paul Metropolitan Statistical Area (MSA) and is often thought of as the Western Gateway to Wisconsin.  Hudson is a thriving and growing community, and Applegate has some of the best commercial properties Hudson Wisconsin offers.
Every growing community has a constantly changing commercial property base, which is certainly true of Hudson, Wisconsin. There is a healthy turnover of properties in the downtown area of Hudson WI and on the I-94 corridor and in the Hudson WI industrial park.  Talk to our Hudson WI commercial agents about your space and curb appeal needs for help finding the ideal property for your business.
Leasing a commercial property is often more appealing to many business owners. Talk to your Hudson WI commercial agent and check our listings often to find the ideal lease property for commercial real estate in Hudson Wisconsin.
Want to see what is available for land and lots in Hudson Wisconsin? Click here to see the MLS listings for Land For Sale in Hudson WI. 
Owning a commercial property in Hudson WI can be a great investment. Property management is another of the services available to you through Applegate Commercial Properties. Our team can take over the responsibility for the necessary lessee tasks such as clearing snow, landscaping, and maintaining HVAC systems. Our property management team takes these stressful tasks off your hands, freeing you up to enjoy your time and collect the rent.
Moving to Hudson WI
Hudson Wisconsin, is a great place to live, work, and play! The city of Hudson and the surrounding region are recognized as some of the fastest-growing areas of Wisconsin, with many opportunities for residential, commercial, and industrial development. Hudson's eclectic mix of houses can be seen throughout the city's vintage neighborhoods. There are currently five residential neighborhoods with undeveloped lots for new construction. Senior housing is also available for independent and assisted living lifestyles. Residents and prospective homebuyers will find Hudson's affordability a definite plus.
Schools
Hudson is in the Hudson school district, and the quality of these schools is born out of the Wisconsin Department of Public Instruction's annual report card. Its schools include E. P. Rock Elementary School, Hudson Prairie Elementary School, North Hudson Elementary School, Willow River Elementary School, Houlton Elementary School, River Crest Elementary School, Hudson Middle School, and Hudson Senior High School. St. Patrick, a Catholic parochial school, is also in Hudson. The University of Wisconsin-River Falls also has a satellite campus in Hudson.
Municipal
The Department of Public Works is responsible for repairing and maintaining 72 miles of city streets and a large variety of other services to the public. They also provide snow removal and ice control of city streets and refuse and recyclables collection and disposal.
Activities
The St. Croix River is the backdrop to this charming river town. With boating, fishing, swimming, golfing, hiking, and biking available, you will never run out of active things to do. Is shopping more your speed? Its numerous antique shops will have you covered. When it's time to wind down, dine in one of their many restaurants or spend a night in one of their charming B&B accommodations.
History
Hudson was settled in the summer of 1840 at the mouth of the Willow River. Many settlers arrived in the 1850s and 1860s, many of whom were ancestors of today's residents. The lumber industry was the prime attraction of the area. Hudson has grown as a tourist destination over the years.
Ready to bring your family or business to Hudson, Wisconsin? Contact a commercial agent today for Commercial Real Estate Hudson WI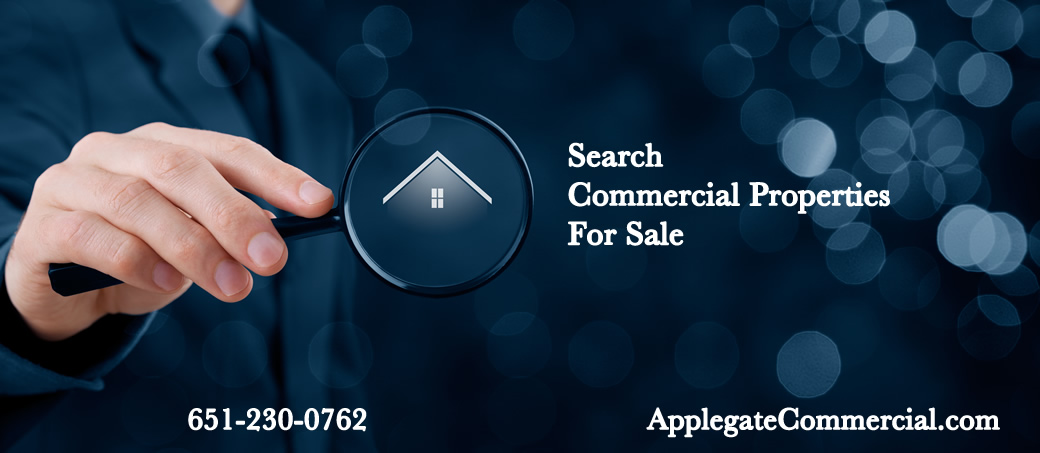 Click here to search commercial real estate in Hudson, WI.
Can't find a commercial real estate in Washington County, MN, that matches your budget and needs? Don't worry, contact us, and we'll help you navigate through the choices and find you the best property to buy or lease in Ramsey, MN for your business.
Here at Applegate Commercial Properties, we aim to please! Our realtors go the extra step to make sure you find the perfect commercial property for sale in New Richmond, WI, Stillwater, MN, and the surrounding areas. We also realize some people would like to start leasing commercial property in Hudson Wisconsin, so make sure to check out that option with us too!