Commercial Real Estate Bayport MN
Looking for Bayport Mn commercial real estate? Bayport is a beautiful community that revolves around the excitement that the St. Croix river brings. Located between Afton and Stillwater, Bayport is known for its small town hospitality. Residents enjoy a variety of ways to enjoy and explore the river valley.
Commercial Real Estate Bayport MN
Bayport's commercial area is growing so we update our listing often. Keep checking back for the most recent information. And don't forget to contact our talented commercial agents for help finding the right commercial space.
If you're not ready to buy a commercial space or haven't found the ideal spot yet, consider leasing a space for your business. Check our listings and ask our agents to help you find the best new home for your business venture.
Bayport MN Property Management
Investing in Bayport's commercial property is an excellent opportunity to get in on a growth industry. We know not everyone wants to take on the stress involved with being a landlord. There's a lot to manage besides finding tenants. Don't get overwhelmed, let our property management team help you instead.
Moving to Bayport MN
Opening a business or moving your successful business to a new location is a big undertaking. Before settling on Bayport, there are many things you'd like to know. We've put together a few highlights and encourage you to ask our commercial agents for more information.
Schools
Bayport is located in the Stillwater Area School District (ISD 834). Stillwater Area Public Schools became the states' first school dirstrict in 1850. The public schools serving this area include Stillwater Area High School, Oakland Jr. High, and Andersen Elementary School. The private schools include St. Croix Catholic School and Salem Lutheran School. The charter schools include St. Croix Preparatory Academy and New Heights Charter School. Bayport schools ready their students for success. The high school had a 97% graduation rate, and 87% of graduates went on to 2 or 4 year colleges/universities in 2012-13.
Municipal
Bayport has a mayor and four council members. Each elected mayor has a two-year term, while council members have a four-year term. The Public Works Department is responsible for public safety and enforcement of the ordinances and policies of the city.
Activities
The city has four beautiful parks that offer a variety of fun. All parks are open to the public daily, sunrise to sunset. The city also has a nature education center which can be reserved for private meetings and events. Lakeside Park has designated parking stalls for vehicles with boat trailers. Barker's Alps has one picnic shelter and Lakeside Park has a beach house and four picnic shelters that are available for rent.  Both locations are great for graduation, birthday, or retirement parties.
Landmarks
After spending the day on the river, wind down at some iconic restaurants. Check out Mallards On The St. Croix or The Wilder Scratch Kitchen. Go hiking, camping, or canoeing at nearby Willow River State Park.
History
The City of Bayport began as three small settlements along the St. Croix River. In 1873, the St. Croix Railway Improvement Company combined the three settlements into South Stillwater, which was incorporated as a village in 1881. Because many people confused South Stillwater with the City of Stillwater, the City changed its name to Bayport in 1922.
Bayport Mn commercial real estate welcomes new business growth.  If you're ready to find the perfect commercial property for your business, contact the Applegate Commercial Real Estate Team (651) 230-0762.  We offer trusted commercial real estate sales MN clients rely on!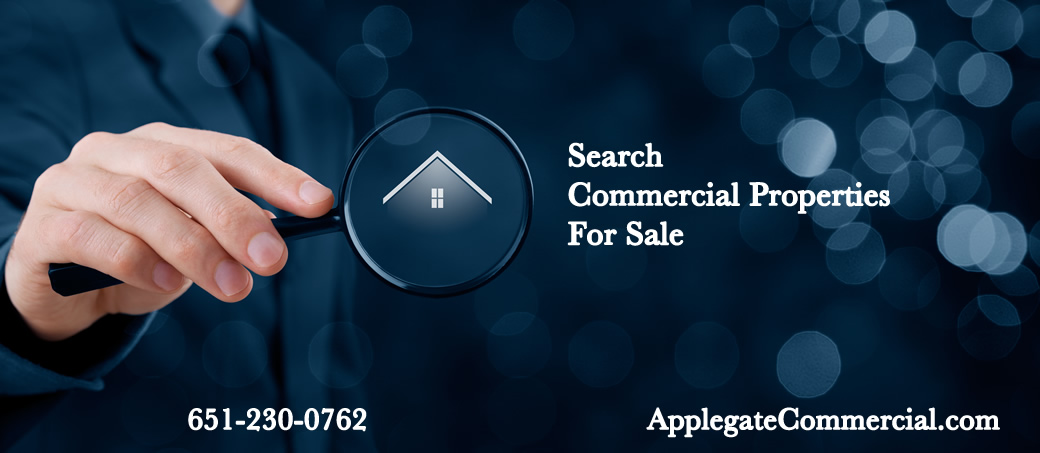 Click here to search commercial real estate in Bayport, MN
Can't find a commercial real estate in Bayport Minnesota that matches your budget and needs? Don't worry, contact us and we'll help you navigate through the choices and find you the best property to buy or lease in Bayport for your business.
Here at Applegate Commercial Properties, we aim to please! Our realtors go the extra step to make sure you find the perfect commercial property for sale in Hudson, WI and Stillwater, MN and the surrounding areas. We also realize some people would like to start out leasing commercial property in Bayport first so make sure to check out that option with us too!
| | |
| --- | --- |
| Servicing the following Counties: | Servicing the following cities and surrounding cities: |