Commercial Real Estate Osceola WI
Osceola is located on the St. Croix National Scenic Riverway and was originally settled in 1844. The downtown core features a collection of buildings dating from the 1880s, contributing to Osceola's small-town charm. Located less than 40 miles northeast of the major metropolitan area of Minneapolis and St. Paul, residents enjoy a perfect balance of recreation, tourism, business, and industry.  It is an attractive place for families to live, work, and do business.  Let us help you find the best commercial real estate Osceola WI offers!
Commercial Real Estate in Osceola, WI For Sale
Commercial properties come up for sale frequently. We keep our listings up to date, so check back often. And don't forget to talk to our Osceola commercial agents for help finding the ideal property for your business.
Leasing a commercial property is often more appealing to many business owners. Talk to your Osceola commercial agent and check our listings often to find the ideal lease property.
Property Management
Owning a commercial property in Osceola can be a great investment. However, many people do not want to be property managers. Clearing snow, landscaping, and HVAC systems are just of few of them. Our property management team takes these stressful tasks off your hands, freeing you to enjoy your time and collect the rent.
Moving to Osceola WI
The quaint downtown area boasts an eclectic group of businesses, including Attorneys, Contractors, Financial Services, Restaurants, Shops, and more. This community of 2600 people has committed to economic growth, which has led to nearly 3000 jobs in the Industrial and Airport Business Parks.  Before you make the leap and join them, there are some things you may want to know about the area. We've put together some highlights for you, and our team of commercial agents is happy to answer any questions. We also encourage you to talk to the Chamber of Commerce.
Schools
Osceola is served by the Osceola School District. Their four schools include Osceola Elementary School, Intermediate School, Middle School, and High School. The motto of Osceola High School is "World-class education with a small-town feel." They received an 84.6 on the District Report Card, which is a great achievement!
Municipal
The Osceola Municipal Court serves the Village of Osceola and the Village of Dresser. The Judge, Priscilla Dorn Cutler, is serving a four-year term. The Department of Public Works is responsible for operating the sanitary sewer system and water system maintenance and repair of streets, public grounds and parks, storm sewers, removal of ice and snow, collection of waste materials, animal control, and forestry.
Activities
Catch a ride on the Osceola & St. Croix Valley Railway! The Osceola & St Croix Valley Rail Road operates from May through October, departing from the Osceola Depot. Explore the St. Croix with Riverwood Canoe & Kayak Rentals, or take a hike at Cascade Falls.
History
The village was named after Osceola, chief of the Seminoles. The Village has maintained its history by using historic preservation as a tool to keep its downtown vibrant. From the downtown district, walking trails will take you to Cascade Falls and the St. Croix River, to the bluff overlooking the St. Croix River valley, and along Osceola Creek, a Class II trout stream.
Ready to bring your family and business to Osceola, Wisconsin?
Contact the Applegate Commercial Real Estate Team (651) 230-0762 to learn more about buyer and seller representation.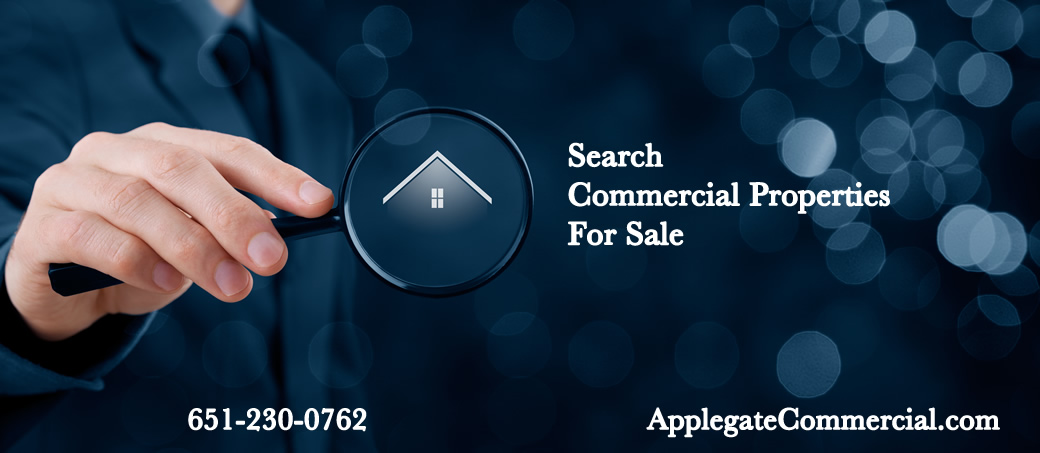 Click here to search commercial real estate in Osceola, Wisconsin.
Can't find a commercial real estate in Osceola, Wisconsin, that matches your budget and needs? Don't worry; contact us, and we'll help you navigate through the choices and find you the best property to buy or lease in Osceola for your business.
Here at Applegate Commercial Properties, we aim to please! Our realtors go the extra step to make sure you find the perfect commercial property for sale in Hudson, WI, Stillwater, MN, and the surrounding areas. We also realize some people would like to start leasing commercial property in Osceola first, so check out that option with us too!
| | |
| --- | --- |
| Servicing the following Counties: | Servicing the following cities and surrounding cities: |