Commercial Real Estate Woodbury MN
Woodbury's is a community of involved residents. They're proud of the nature and parks in the area, and they're also proud to support local businesses and business owners. Once a farming community, retail centers, and homes have taken over and made Woodbury a truly suburban area. Our commercial real estate Woodbury MN team offers the area's best opportunities.
Commercial Real Estate in Woodbury MN
Commercial property in the Woodbury, MN area is growing, so we often update our listings. Keep checking back for the most recent information. And don't forget to contact our talented commercial agents for help finding the right commercial space in Woodbury Minnesota.
If you're not ready to buy a commercial space or haven't found the ideal spot yet, consider leasing a space for your business. Check our listings and ask our agents to help you find the best new home for your business venture.
Woodbury MN Property Management
Investing into what commercial real estate Woodbury MN offers is an excellent opportunity to get in on a growing industry. We know not everyone wants to take on the stress of being a landlord. There's a lot to manage besides finding tenants. Don't get overwhelmed; let our property management team help you instead.
Moving to Woodbury MN
Opening a business or moving your successful business to a new location is a big undertaking. Before settling on Woodbury, there are many things you'd like to know. We've put together a few highlights and encourage you to ask our commercial agents for more information.
Schools
Education is important in Woodbury. The city has three school districts made up of six elementary schools, two junior high schools, and two high schools. Students choose from two parochial schools and two charter schools, among other options. Post high school, Rasmussen College-Lake Elmo has a campus in Woodbury where they offer undergraduate degrees in health sciences, nursing, business technology, design, criminal justice, and early childhood education.
Municipal
Woodbury has a mayor and council members. Each elected official serves a four-year term with elections in even years. Terms are staggered, so there are always incumbent and newly elected members. Woodbury provides a list of approved third-party haulers for residents and businesses to choose from for trash and recycling.
Activities
On your lunch break or after work, explore the vast trail system. Woodbury's parks department maintains 140 miles of trails, 63 athletic fields, 38 play areas, 40 neighborhood parks, five community parks, five large open spaces, and 48 athletic courts. Within each natural space, you can boat, walk, or relax on the beach. Check out Woodbury's Recreations 
Landmarks
The Ojibway Park Band Shell holds events and musical performances in the summer. It's also considered the city's most significant landmark.
History
Woodbury was originally called Red Rock in deference to a sacred stone painted by Dakota Chief Little Crow. When the town legislature learned about Red Rock Township in 1859, they renamed the area Woodbury, in honor of Judge Levi Woodbury from New Hampshire, a good friend of Woodbury's first chairman. The area's first settlers began arriving around 1844, largely from Germany and the eastern US.
Woodbury welcomes new business growth. We offer trusted commercial real estate sales MN clients rely on!
Contact the Applegate Commercial Real Estate Team (651) 230-0762 to learn more about buyer and seller representation.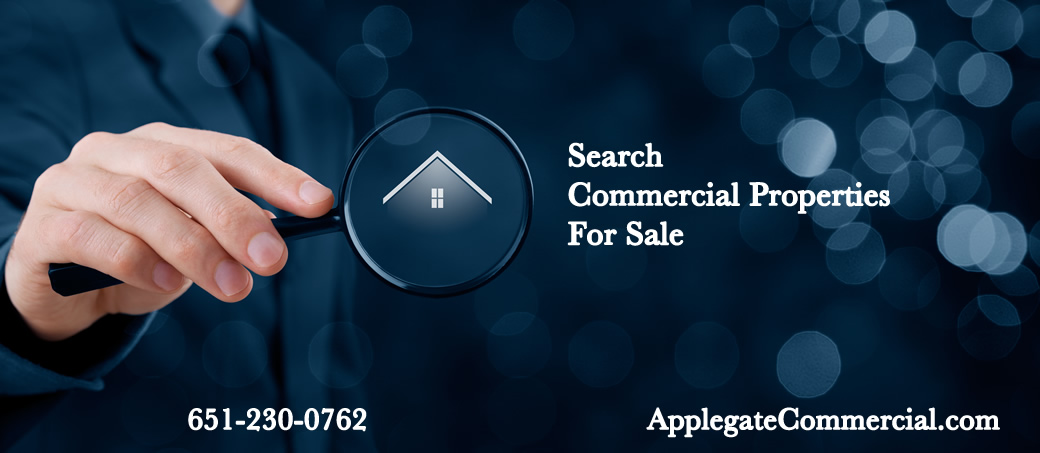 Click here to search for commercial real estate in Woodbury, MN.
Can't find a commercial real estate in Woodbury, Minnesota, that matches your budget and needs? Don't worry; contact us, and we'll help you navigate through the choices and find you the best property to buy or lease in Woodbury for your business.
Here at Applegate Commercial Properties, we aim to please! Our realtors go the extra step to make sure you find the perfect commercial property for sale in the Twin Cities area. We also realize some people would like to start leasing commercial property in Woodbury first, so check out that option with us too!
| | |
| --- | --- |
| Servicing the following Counties: | Servicing the following cities and surrounding cities: |