Commercial Real Estate Minneapolis MN
Looking for commercial property in Minneapolis MN?  This is the largest city in the state of Minnesota, and the 46th largest city in the United States. It lies on the banks of the Mississippi River and adjoins St. Paul, the state's capital. With 13 lakes, this city is known for its water. It also has wetlands, creeks, and waterfalls, many connected by parkways in the Chain of Lakes and the Grand Rounds National Scenic Byway.  Contact us to find the best commercial real estate Minneapolis MN has to offer.
Commercial Real Estate for Sale in Minneapolis MN
Commercial properties come up for sale frequently. We keep our listings up to date, so check back often. And don't forget to talk to our Minneapolis commercial agents for help finding the ideal property for your business.
Leasing a commercial property is often more appealing to many business owners. Talk to your Minneapolis commercial agent and check our listings often to find the ideal lease property.
Minneapolis MN Commercial Property Management
Owning a commercial property in Minneapolis can be a great investment. However, many people do not want to take on the responsibilities of being a property manager. Clearing snow, landscaping, and HVAC systems are just of few of them. Our property management team takes these stressful tasks off your hands, freeing you up to enjoy your time and collect the rent.
Commercial Real Estate Minneapolis MN
Moving to Minneapolis MN
Minneapolis is an economic hub on the rise. Many corporate headquarters are based here, and industries like banking, retail, medical technology, healthcare and computer technology are all important to the local economy. About 350,000 people live in Minneapolis, and the Twin Cities metropolitan area totals around 3.2 million people. New, modern housing, condos and apartments are available downtown, while the suburbs surrounding Minneapolis offer every kind of suburban living you could want.
Schools
Minneapolis Public Schools has 36,370 students in its public primary and secondary schools. The district has about 100 public schools including 45 elementary schools, seven middle schools, seven high schools, eight special education schools, eight alternative schools, 19 contract alternative schools, and five charter schools. The city also has more than 20 private schools and about 20 charter schools.
Municipal
Funded in part by assessments on commercial properties, in 2009 Ambassadors of the Minneapolis Downtown Improvement District (DID) began working on 120 blocks of downtown to improve its cleanliness, friendliness and acceptability of behavior. The city treats and distributes water and requires payment of a monthly solid waste fee for trash removal and recycling. Residents who recycle receive a credit.
Activities
Minneapolis is a cultural center for theater, visual art, writing, and music. It is also home to award-winning restaurants and chefs. It has five professional sports teams and four stadiums, with the U.S. Bank Stadium hosting the 2018 Super Bowl. The Minneapolis park system has been called the best-designed, best-financed, and best-maintained in America.
History
Minneapolis is named by Charles Hoag, the city's first schoolmaster, who combined mni, a Dakota Sioux word for water, and polis, the Greek word for city. The Minnesota Territory was created in 1849, and Minnesota officially became a state in 1858. Both the town of St Anthony and the younger town of Minneapolis shared the resources of St Anthony Falls.  This waterpower fueled the thriving industries of sawmills, grain mills, and flour mills for many years.
Ready to bring your business to commercial real estate Minneapolis MN? Contact the Applegate Commercial Real Estate Team (651) 230-0762 to learn more about buyer and seller representation.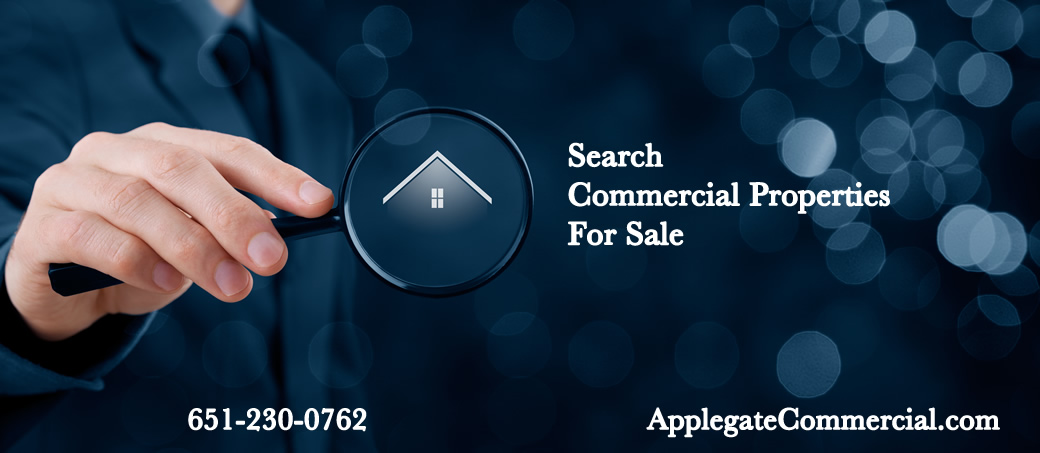 Click here to search commercial real estate in Minneapolis MN.
Can't find a commercial real estate in Minneapolis MN that matches your budget and needs? Don't worry, contact us and we'll help you navigate through the choices and find you the best property to buy or lease in Minneapolis for your business.
Here at Applegate Commercial Properties, we aim to please! Our realtors go the extra step to make sure you find the perfect commercial property for sale in the Twin Cities area. We also realize some people would like to start out leasing commercial property in Minneapolis first so make sure to check out that option with us too!
| | |
| --- | --- |
| Servicing the following counties: | Servicing the following cities and surrounding cities: |